N.D. Out-of-School-Time Conference
N.D. Out-of-School-Time Conference
Out-of-school-time conference
About The Event
Registration now open! August 2-3, 2022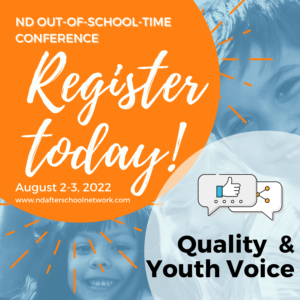 The 2022 ND Out-of-School Time Conference is back in person August 2 & 3 to provide two dynamic days of research-based practices; information, tools and resources framed by the ND Quality Standards for Out-of-School Time Programs; and opportunities for connection with other out-of-school time programs across the state.
All youth development and afterschool professionals are invited to attend!
Day 1
8:00 – 9:00    Breakfast & Exhibitor Booths
9:00 – 10:15   Welcome & Keynote Dave Pelzer
10:45 – 11:45   Conference Sessions
11:45 – 1:00   Lunch, Conference Session & Exhibitor Booths
1:00 – 5:00    Conference Sessions, Break/Snack & Exhibitor Booths
Day 2
7:30 – 8:30      Breakfast
8:30 – 10:30    Welcome & Keynote Jade Gordon
10:30 – 11:45   Conference Sessions
11:45 – 12:45    Lunch & Conference Session
12:45 – 3:30     Conference Sessions
DELIVERY: In person at the Holiday Inn – 3803 13th Ave S, Fargo, ND
AUDIENCE: Afterschool Program Supervisors, Directors, and Staff
CREDIT/HOURS: 
Educators: One graduate credit (15 content hours) will be available through VSCU after attendance and completion of conference evaluation.
Early Childhood/Afterschool Professionals are approved for 15 hours through Growing Futures if all sessions attended.
KEYNOTES:
Dave Pelzer, The Real Heroes: This rare heart-felt program is given by a man whose life was saved by a system than many ridicule as being useless and incompetent. This highly emotional presentation pays tribute to those who have dedicated their lives to making a difference in the world of a child, while at the same time educating the general public of the challenges faced by those in their chosen field. Dave carefully weaves the story of how his life was saved by teachers, a school nurse, the police department, social services, and the foster care system. This is the perfect keynote for those within the system who are in need of a positive shot in the arm from a man who, too, has dedicated his life to helping others. Throughout the program, Dave's sense of humor draws respect away from national sports celebrities and Hollywood icons to those truly making a difference within our country's children every day: The Real Heroes. 
As an individual who represents overcoming adversity, Dave Pelzer has dedicated his life to helping others to help themselves. As a former Air Force Combat Crew Member, Dave's job entailed midair refueling of the once highly secretive SR-71 Blackbird and the F-117 Stealth Fighter. While on active duty, Dave was selected as California Volunteer of the Year. Dave has received personal commendations from four U.S. Presidents and honored as one of the Ten Outstanding Young Americans, and later, was the only American to be honored as The Outstanding Young Person of the World. Dave is also the recipient of the National Jefferson Award which is considered the Pulitzer Prize for public service. Other recipients include Sandra Day O'Connor and Colin Powell.
Dave is the author of nine inspirational books. His books have been on the Best Sellers list for well over 13 years combined. A Child Called "It" alone has been on the New York Times bestsellers list for well over 6 years. Dave is the first author to have four #1 International Best Sellers and to have four books simultaneously on the New York Times Best Sellers List. For nearly the last ten years, Dave has served as a California Fire Captain in two separate districts. During that time, he's been deployed to the state's most horrendous fires.
Jade Gordon, The Power of Positive Leadership: Participants will be taught ways to incorporate positive leadership and create a culture and environment that will allow students to learn and grow and become better versions of themselves. Learn principles and tools that will help them and the children you teach have a positive mindset when faced with adversity or challenges, and how to connect and create great relationships with the people around you to transform the environment in a positive way. 
Jade Gordon is a graduate of Clemson University with a degree in communications. After college she moved to Los Angeles to pursue acting while working at Nobu Malibu, a World Famous restaurant. She learned the art of great customer service by loving and caring about the people she encountered daily. Now, with a passion and mission to develop positive leaders and build great teams, she has joined the Jon Gordon Companies as a keynote speaker and certified trainer. She is currently working on a book with her father.
BREAKOUT WORKSHOPS:
ACCOMMODATIONS:
Holiday Inn Fargo

3803 13th Ave S, Fargo, ND
Room block reserved until 7/1/22
701-282-2700
Code: ND Out-of-School Time Summer Conference
REGISTER NOW!
Hi! I'm Kristin and I am the ND Afterschool Network Lead. If you are looking for more information on how to bring or better afterschool programs near you, shoot me a call or an email!