Professional Development & Events
Professional Development & Events
Events
ND Afterschool Day on the Hill
CANCELED due to weather – February 22, 2023
Bismarck, ND
Hosted by the ND Afterschool Network, Afterschool Day on the Hill 2023 was canceled due to weather. Look for Afterschool Day on the Hill during next legislative session in 2025. We invite afterschool and summer learning programs from across ND serving students in grades PreK-12, staff and students to attend this event, showcase your program, and have a chance to interact with ND legislators and state education representatives.
Access ND Afterschool Day on the Hill Prep Session here (11 min). 
Events
Ready, STEM, Go!
March 14-15, 2023
Virtual Conference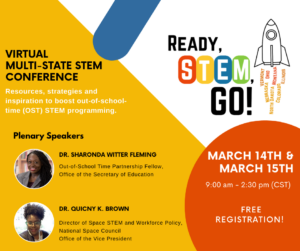 A national alliance of afterschool networks are partnering to host a two-day virtual conference, shining a spotlight on resources, strategies and inspiration to boost out-of-school time (OST) STEM programming. Sessions will elevate resources available through the Million Girls Moonshot Initiative, unique STEM program models and provide actionable steps for OST professionals to:
Introduce high-quality curriculum options that challenge youth to problem solve with curiosity and creativity
Increase equity in STEM programming
Implement facilitation methods to promote an engineering mindset and positive STEM identity in youth
The no-cost virtual conference will provide opportunities for OST professionals to network with peers from across the country, engage with speakers committed to supporting others in designing enriching STEM activities beyond the classroom and ignite excitement to help youth explore STEM and all the ways it can inspire and set their lives up for success!
REGISTER
Events
ND Afterschool Professional Learning Community 2022 – 2023
Monthly, September 2022 – June 2023
ND Afterschool Network will host a monthly, virtual series during the 2022 – 2023 school year for afterschool professionals across the state framed by the ND Quality Standards for Out-of-School Time Programs.
Any level of program staff and any type of out-of-school time program is welcome: 21CCLC, community-based, faith-based, club-based, summer camp, school-age licensed childcare, director, site coordinator, teacher, youth professional, etc.
NOTE: ND 21CCLC grantee program sites who are receiving TARGETED SUPPORTS (new 21CCLC sites, high-risk sites, and self-selected sites) are required to attend at least 5 of the 10 sessions. Any staff is welcome, but content will be geared toward site directors. 
You can join one session or join them all! You determine what will meet your needs the best. Participants will have the opportunity to provide input on future session topics.
2022 – 2023 Sessions:
All sessions held via Zoom from 10:00 – 11:00am CT
September 14: Advocacy – Afterschool Alliance will join us to share tips, tools, and resources to help you tell your program's story by incorporating youth voice and sharing information with key stakeholders, families, schools, and policymakers through the upcoming Lights on Afterschool. (Focus: Youth-Centered Program Design; Leadership & Management)
October 26: Program Goals- Session will focus on developing strong and meaningful goals based on the ND Quality Standards Self-Assessment ratings. (Focus: Leadership & Management)
November 9: Afterschool Health & Safety (Focus: Health & Safety)
December 14: Youth Voice (Focus: Youth-Centered Program Design)
January 11: Onboarding & Professionalism (Focus: Leadership & Management)
February 8: Planning for a Successful Summer Program (Focus: All 4 Quality Domains)
March 8: Family Engagement in OST (Focus: Relationships & Interactions)
April 12: TBD
May 10: TBD
June 14: TBD
REGISTER
Events
ND Out-of-School Time and Early Childhood Summit
Register Now! August 1-2, 2023
The ND Afterschool Network is joining efforts with Child Care Aware of ND to host the ND Out-of-School Time & Early Childhood Summit on August 1-2, 2023!
The Summit will provide two days of in-person learning and connecting, with keynote workshops and breakout tracks for afterschool, summer learning, and early childhood providers working with youth from Birth through Grade 12.
LEARN MORE
Events
Lights On Afterschool
October 19, 2023
Launched in October 2000, Lights On Afterschool is the only nationwide event celebrating afterschool programs and their impact on the lives of children, families, and communities.
Join the ND Afterschool Network in drawing attention to the many ways afterschool programs support students with a Lights On event during October – register to hold an event, big or small, to celebrate afterschool and contribute to a record-breaking number of people across North Dakota celebrating afterschool.
MORE INFO
Events
ND Afterschool: Arts in Afterschool Funding Info Session 2022 – 2023
Recorded August 23, 2022
The ND Afterschool Network, in collaboration with ND Council on the Arts, is pleased to offer funding to afterschool and other out-of-school time programs to increase opportunities for students in grades K-12 to engage in arts programming during the 2022-2023 school year.
Join this virtual info session to learn more about the types of activities that can be funded and how to access the funds. Applications accepted starting August 23. Find application here. 
ACCESS RECORDING
Events
Using the ND Quality Standards for Out-of-School Time Programs
Recorded August 16, 2022
The ND Quality Standards for Out-of-School Time Programs are designed to acknowledge the work afterschool programs do and help take your program to the next level.
Join this virtual training to learn about how the Standards were developed, what each of the four quality domains look like, and how to use the Program Self-Assessment Tool accompanying the Standards as part of your continuous quality improvement process.
Tuesday, August 16
1:00 – 2:00pm CST
Session will be recorded and link sent to all who register.
ACCESS RECORDING
Events
ND Afterschool: Empowering Kindhearted Kids
Recorded November 17, 2022
In today's world, providing Social Emotional Learning in all youth settings is more important than ever, as children struggle to develop healthy identities and emotional stability. Please join Two by Two Character Development to explore the latest research regarding Social Emotional Learning and the importance of explicitly teaching core values. Plan on loading up your "toolkit" with lots of fun and engaging ideas to immediately use with your children and walk away feeling empowered and rejuvenated for the important work you do.
Learning Outcomes:
1. Present and identify current research and social trends that have led to the critical need for Social Emotional Learning in all child-centered settings.
2. Immerse participants in activities and strategies that support adult Social Emotional Learning.
3. Transfer adult social and emotional learning strategies to helping children make good decisions and maintaining healthy relationships.
Audience:
– Elementary Level Educators (Before/After School: PK – 5th Grade)
– School Counselors
Presenter:
Kristin Vaassen, Director of Business & Curriculum Development, Two by Two Character Development
Session is aligned with ND Quality Standards for Out-of-School Time Programs Relationships & Interactions Domain.
ACCESS RECORDING